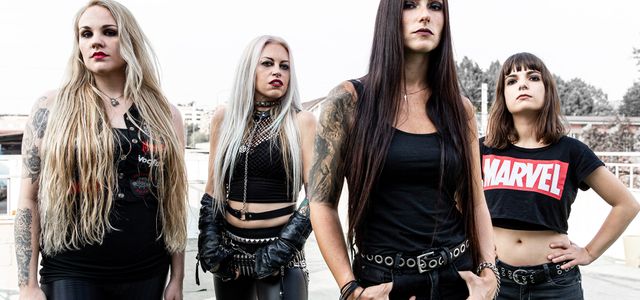 Stereotype lovers seeing the three words – brutal, female and mastery – used in once sentence might get an eye twitch. Yet NERVOSA doesn't fit any stereotypes and will offer just that: the raw thrash metal they play makes no festival or stage too big for them. This summer this international team will visit Lithuania – KILKIM ŽAIBU festival.
The band, established in Brazil in 2010, currently features only one of its founders – the guitar player Prika Amaral. The most significant changes in the band took place last year, when its drummer and bass player left due to musical differences. However, the band quickly got back on track and became international: the vocalist Diva Satanica, also known from Bloodhunter, is from Spain, the bassist Mia Wallace from Italy also plays with Abbath, while the drummer Eleni Nota is from Greece.
Although at first sight the variety of geographic locations might suggest some communication issues, the fact is that these musicians are not attached to their homes and spend a lot of time touring. Moreover, in just a year they also managed to release a new album "Perpetual Chaos", which will be introduced to the audience in Lithuania.

Have no doubts that these girls, choosing the type of music, which has little to do with soft romanticism, are as good at it, as the most famous names of this genre!