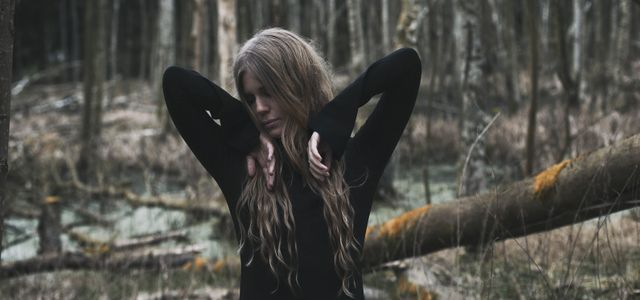 19th edition of festival "Kilkim Žaibu" presents the band that is appreciated worldwide for its extraordinary style – MYRKUR! It is Amalie Bruun's musical expression of her peculiar worldview. New concepts and individual sound has charmed not only the gourmets of alternative music, but also became an intriguing phenomenon for those who dislike genre canons.

Revolutionists of alternative art
One-woman fronted band from Denmark MYRKUR has surpassed all the usual Black metal frames, avoided being attributed with some genre labels and found its unique sounding somewhere between the darkness of Black metal, folklore melodies and the lightness of Scandinavian mythology. While thousands of Black metal musicians wander in the labyrinths of dark art, MYRKUR proves that there is space for different interpretations and maybe it is even necessary to find something new.
Amalie says: "I always dreamed about becoming a Huldra, an Elver girl, a Valkyrie, the goddess Freja. These powerful women in Norse Mythology have an element of beauty and mystique, but they are also deadly."
However, MYRKUR doesn't have to dream – she is a real contemporary goddess. Though the word "myrkur" means "darkness" in Icelandic, Bruun's music encompasses far more than just that one dimension of music: with its distinct sense of Nordic isolation, MYRKUR is a definitively brutal creation, yet also a delicate and feminine one.

Black metal roots and beauty of ethereal sound
MYRKUR combines the rawness of second-wave black metal bands like Ulver and Darkthrone with a natural, ethereal sonic beauty. Nightmares turned into melodies, somber nocturnal mysticism, dark elegance, whispers and echoes of Nordic solitude, escaping the "real" world, the world that you have never meant to function in – this is an absolute conqueror of all 2017's tops MYRKUR.

The perspective of the unique project
MYRKUR introduced a wholly unique perspective on the genre of black metal, one that immediately put her on the map and caught the attention of listeners and publications worldwide. She has not stopped making waves in the metal scene since unveiling her self-titled EP in 2014, and Mareridt, the band's second full-length, suggests that those waves are only going to get bigger and bigger with the passage of time. Though Amalie writes all the songs by herself, she also collaborates with musicians from "Ulver" and "Mayhem".
The band has already performed in many festivals like Wacken Open Air, Hellfest and just toured along Europe with Sólstafir. This time this Black Metal mistress is going to cast her spells on Kilkim Žaibu 19 audience!
Festival "Kilkim Žaibu" will take place on June 28-30, on the coast of Lūkstas lake, Varniai.