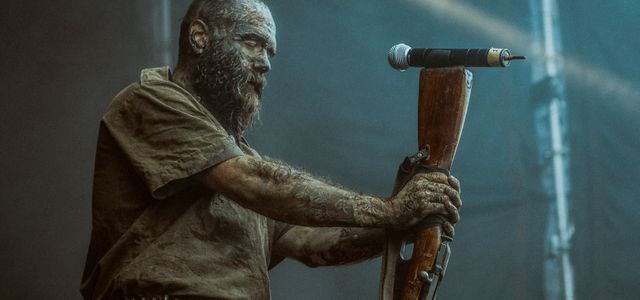 Back in the day, when the Ukrainian band 1914 shook hands with the organisers of KILKIM ŽAIBU festival and agreed to take part at the festival in 2022, Ukraine was still in peace. Nobody had even the slightest clue of the most horrible outbreak of violence in Europe since World War II that would take place soon afterwards. Yet now, feeling optimistic about the end of the war, the musicians are sure that they won't have to change their summer touring plans.
The Russian invasion and crimes against humanity, taking place for more than one month now, has loaded the band members – just like all Ukrainians – with anger. Yet they also don't lose their heads, nor do they give up hope: although without any combat skills and living in more peaceful areas of the country, they've joined the voluntary effort to help the military and residents that have ended up in the war zone.
Living at war
Living in Lviv, the musicians relocated their family members to the neighbouring countries, continue their daily works and have nearly gotten used to hearing air raid sirens 5-6 times per day. True, spending two hours in the basement every night doesn't do any good for your sleep. However, the nation fighting for survival is collected with everyone contributing to the victory in any way they can – and they're
sure that victory will be theirs. 1914 band members are no soldiers, so they spend days volunteering and helping the soldiers at the front.
The band members say that, today, every Ukrainian, including musicians, are doing all that is possible and impossible to contribute to the victory against Kremlin's horde.
'On the first day of the full-scale invasion I didn't know what to do, whether I should go to the army, or pack and leave. On the second day I realised, that I have to stay and do everything I can to be helpful to my country. The Armed Forces of Ukraine only accepted people with combat experience or army specialization. However, the territorial defence was taking everyone, who desired to join, so I signed up as number 666. The country is at war and I can't sit still and watch.' said Oleksa Fisyuk, 1914 guitarist.
'I joined as a volunteer, and I have been doing everything from unloading and loading cars with humanitarian aid, coordinating drivers to help refugees find homes, get to the border, across the border, and organized a mini call centre to help deliver food to people in need. I tried doing everything that people needed. The days are all messed up in our heads, we sometimes forget if it was a Tuesday or a Wednesday, but we always know which day of the war it is. By now, I have gotten used to the new reality, although no one was ready for this morally and mentally. We work mostly at night and sleep during the day - and sometimes it's the opposite. It's very hard emotionally, but we have to stay sane and keep it up, despite the hardships. Even though we are not at the front, we are helping our army and people with everything we can, because we are their backbone and support, and a lot depends on us too.'
History is repeating, but the band won't change.
The band, which commemorated the beginning of World War I in their title and tells stories of its horrors in each of their songs, is sad to admit that humanity is doing so poor in learning from the past. 'Each of our songs is a story of one of the most horrible times in the human history, hoping that people would be reluctant to repeat the same mistakes in the future. Unfortunately, the history's repeating and humans have learned nothing.' said Fisyuk.
Yet, despite the fact that current events have touched them in a much personal way than the war, which took place more than one hundred years ago, the band is not planning to change their name or the main theme of their songs. 'We will dedicate one of our songs to our defenders, because this touched every Ukrainian and we can't just ignore this. I expect that, in 2022, we'll create a project, dedicated namely to this theme, and thus tell the world about this war.' said the guitarist.
'The impact of the war on us is enormous – just like on any other Ukrainian. However, we've been living at war for eight years – it began in 2014, rather than 2022. So we're not changing anything in the format of 1914 as a band. But I wouldn't dismiss the idea of creating some hardcore side-project to spill out all of our anger and hatred.' said the frontman Dmytro Kumar.
Still planning the summer touring.
Fisyuk was straightforward: 'So far we've cancelled all gigs planned for this spring, although we're hoping that by that time we will win the war and can get back to our ordinary touring schedule. And we're really hoping to perform at one of the best festivals in the Baltics!'
The frontman shared the same sentiment. 'We must rebuild our cities, revive the economy and start touring festivals as soon as possible. So yes, we'll come.' said Dmytro Kumar, adding a few words of the worst wishes for Russia.
He admitted that he really enjoys every trip to Lithuania, as they're always something to remember. 'We're really looking forward this summer's trip, when we'll be able to drink together for our victory – for Ukraine's victory! We know that you also love your country Lithuania very much, so we'll do our best gig ever and then we can raise our glasses for the peace in your and our homes. Slava Ukraini!' said Kumar.