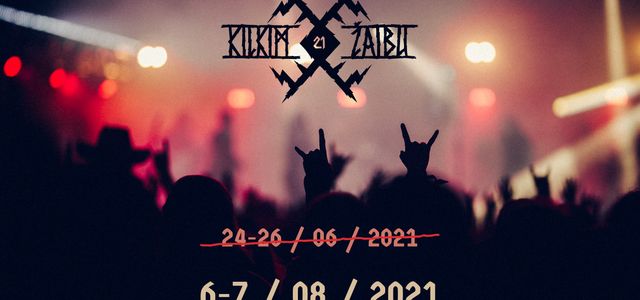 There comes yet one more summer without festivals. The biggest summer events are postponed to 2022 and nobody knows how they will look like in the future. It seems that they will be different. The world of culture will take its first steps again. Baltic culture and extreme music festival KILKIM ŽAIBU is not an exception.
It is self-explanatory that the current festival date of June 2021 is not realistic. Logistics of the musicians is impossible, and we doubt that events will be allowed in June at all. We could wait for another year and hope for the best. However, we want to stay true to ourselves and our fans. We do not want to allure everyone with posters full of foreign bands, and then to cancel everything. We see how this goes in the world and it doesn't seem real anymore.
KILKIM ŽAIBU takes another turn and goes with the plan B. On one hand, we could laughingly say that 2021 year would really match 21st festival year. On the other hand, we are dying to meet in the festival again! Therefore, we turn a new page and because of atypical situation, we present a more compact version of the festival. The festival is shifted to 6-7 of August 2021.
Instead of the usual Midsummer madness, we will be closer to the abundant time of "Herbal", another meaningful Pagan holiday. We are extremely happy that this time we are organizing the event when the nights are much longer. More darkness, more stage lights, and beauty of the fires. Based on last year, we predict that August will be a favorite for open-air festivals. However, we will follow the government decisions and will postpone to 2022 if it will be unavoidable.
Changes will occur not only in festival date, but in format as well. Because of non-predictable travel restrictions, the festival will host mostly Lithuanian performers. We will make the final decisions regarding foreign performers at the last minute, if we see the possibility to bring them to Lithuania.
We believe that KILKIM ŽAIBU XXI with the core of Lithuanian stage could be really significant for us. We have excellent performers in Lithuania and it is a great opportunity to honor and support them.
It means that the festival will be smaller, but not less high quality in any way.
The number of tickets will be limited. We will inform about the number of allowed spectators as soon as the Government's decision on the permissible size of events in August is announced.
Individuals who are unable to attend the event due to a changed program or an inconvenient date will be able to return their tickets until August 6th. Please contact us for money returns by e-mail: info@kilkimzaibu.com
If the event does not take place, tickets will be transferred to 2022.
Let's stay safe and hope to meet this summer! Longing for our audiences, festival KILKIM ŽAIBU team.