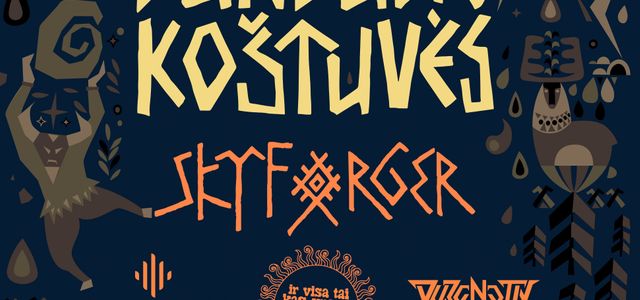 Dear friends, comrades, barley, hops and rock'n'roll lovers!
During the festival experienced brewers will be sharing their knowledge, telling stories and demonstrating traditional beer brewing. The most curious viewers will have a chance to participate in the process of a demonstration or two. The feast taking place in cozy nature environment will have a camping spot for guests who wish to stay longer, and those who like active recreation will not lack games and competitions.
PROGRAMME
Saturday, 11 September


13.00 Opening.
13.00-14.00 Introduction to traditional brewing and demonstration.
14.00-14.30 Drinking Rituals. Ritual Vessels.
15.30-16.30 Development of Lithuanian Brewing.
17.30-18.20 Films on brewing.
19.20-20.10 Song circle with the wild and crazy folk band TANKUOJIS!
21.10-22.00 Folk dance with TANKUOJIS!
23.30-01.00 Wild afterparty with TANKUOJIS!

ON STAGE

14.30-15.30 SIAUDELA – Lithuania, polyphonic songs from Biržai;
16.30-17.30 ŽALVARINIS – Lithuania, acoustic folk rock;
18.20-19.20 I.V.T.K.Y.G.Y.G. – Lithuania, cabaret rock;
20.10-21.10 PHRENETIX – Lithuania, party edition;
22.00-23.20 SKYFORGER – Latvija, pagan metal.
Sunday, 12 September

12.00-15.00 "Dundulio Barzda" (Dundulis' Beard) beer barrelling.
12.00-15.00 Hop picking.
12.00-15.00 Video archives on brewing.
15.00 Closing.
Things to know:
Check out our special treat of swimming in a beer tub!
Guests with tents are welcome to stay at our camping with fresh water, showers and toilets.
Car parking is very close to the territory of the event.
Car parking and camping are free!
All guests must have a Covid certificate.
Children under 14 years old (inclusive) are allowed for free. Seniors, people with disabilities and children, aged 14-16, can use a 50% discount.
The first and cheapest tickets are available here:
https://www.dunduliokostuves.lt/
On the day of the event, the ticket price will go up and tickets will be available only at the gate.
Looking forward to seeing you!
Klausučių ulytėlė, Pikuolis club and Dundulis team.