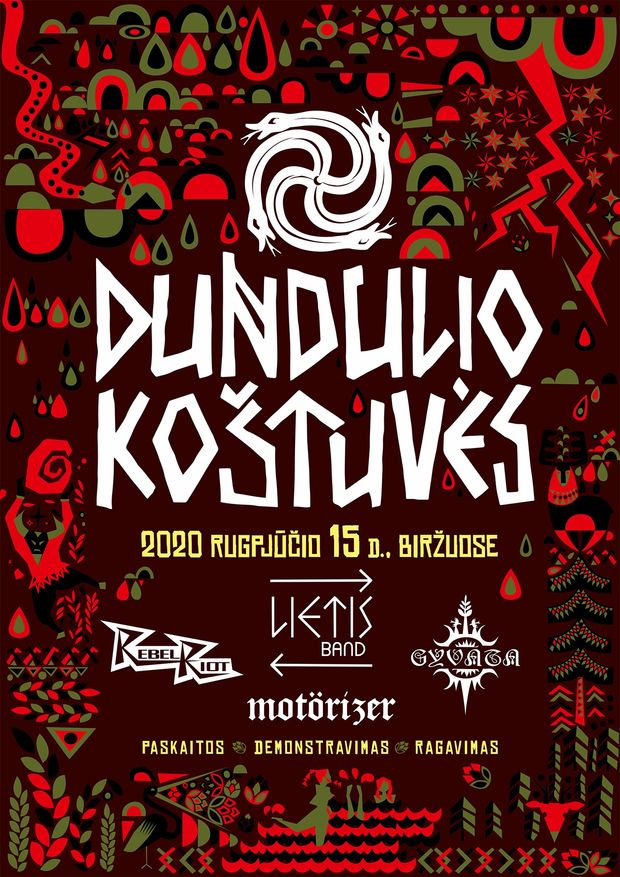 Dear friends, comrades, barley, hops and rock'n'roll lovers!
"Širvėnos bravoras" is celebrating 10 years anniversary and invites you to a festival full of inconceivable love for life THUNDER'S FEAST! The feast will take place at August 15th, in the "Širvėnos bravoras" territory near Biržai under open sky. During the festival experienced brewers will be sharing their knowledge, telling stories and demonstrating traditional beer brewing. The most curious viewers will have a chance to participate in the process of a demonstration or two. The feast taking place in cozy nature environment will have a camping spot for guests who wish to stay longer, and those who like active recreation will not lack games and competitions.
And of course we can't forget some good rock'n'roll!
A professionally set-up stage will hold the concerts of:
GYVATA - Lithuania, neo folklore;
REBEL RIOT - Latvia, blasting rock'n'roll;
LIETIS - Lithuania, a long awaited folk'n'roll breakthrough;
MOTÖRIZER - Lithuania, rock'n'roll classic.
This unusual time period is making us take a break from the big events and festivals. It is also a great time for new experiences and visiting unseen places. We hope that our merry end-of-summer gathering in the wonderful Biržai region will become an unexpected and cozy stop for you among the abundance of events in August.
Event's safety is one of our most important tasks, therefore the audience will be limited to 300 people.
Those who wish to visit the feast should hurry and confirm their attendance by registering at:
https://www.dunduliokostuves.lt/
The tickets will only be sold at the entrance during the day of the event. Tickets will only be sold to people that have confirmed their participation by registering.
Ticket price - 20€.
The safe audience registration was chosen because of the unpredictable quarantine situation - this way neither side will suffer any losses if the event is canceled. We ask for understanding and responsible registering.
More details about the event's schedule are coming soon!
Until the safe and merry meeting!

Club "Pikuolis" and "Dundulis" team.