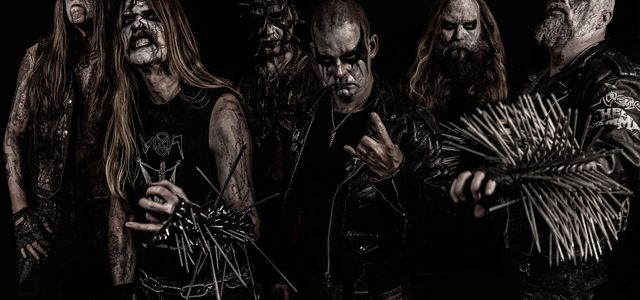 Black clouds descends over KILKIM ŽAIBU!
Hailing from Hönefoss, Norway, URGEHAL emerged onto the scene in the 90s with a massive brutality and onslaught of fierceness that challenged even the underground of Norwegian extreme music. The unholy brigade was formed back in 1992 by Enzifer and Trondr Nefas, Uruz joined in behind the hell tombs in 1997. They have released 8 albums, several EPs/collections and the band has been around the globe numberous times.
When Trondr Nefas sadly passed away at the age of 34 in 2012, this also sealed the end of URGEHAL. Out of friendship, respect and as a tribute to their late singer and guitarist, the Norwegians decided to go ahead with producing a final album to mark the 10 year anniversary since his passing. URGEHAL invited close friends and band mates from other projects like Darkthrone, Taake, Shining, Carpathian Forest and others to contribute to his last work "Aeons In Sodom".
Dødsmarsj for Nefas (March of Death for Nefas) is a memorial tour to honor their fallen brother Trondr Nefas and mark the 10 year anniversary since his passing. Due to covid/late start in 2022, the band has decided to drag this memorial package also over in 2023.
URGEHAL live lineup 2022/23 is original members Enzifer (guitar) and Uruz (drums) as well as long time member Mannevond (Koldbrann, Djevel) on bass. On lead guitar is Malphas (Carpathian Forest, Endezzma, Vulture Lord, HAGL). On vocals performing half the set each we have Trondr's long time friends and fellow musicians Sorath Northgrove (Beastcraft, Vulture Lord, HAGL) and Morten Shax (Endezzma).