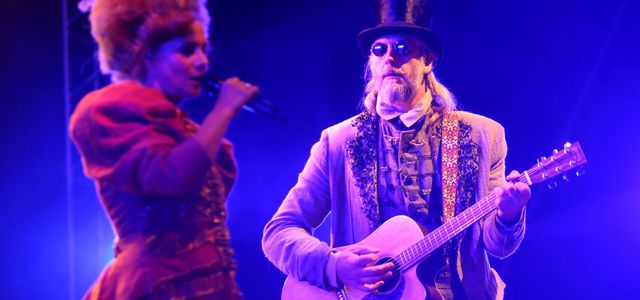 At the beginning of August, KILKIM ŽAIBU – the most thundering post-quarantine summer festival, fostering ethnic culture and heavy music – will pay tribute to its Samogitian roots. The audience will
be able to enjoy "Gervaza dūzgės" – the latest work of SKYLĖ band and its vocalist Aistė Smilgevičiūtė, who is, by the way, a true Samogitian!
The album, produced in Samogitian language, which is so dear to the Samogitians and loved by the rest of the Lithuanians, will be staged as a one-and-a-half-hour theatrical show that can be confidently be referred to as the first Samogitian rock opera or, according to its authors, 'a Samogitian western'. The performance includes special choreography, costumes and light effects.
The authors behind the idea of the album, which features both romantic melodies and well-defined electric guitar riffs that will quickly find a place in your heart, are Aistė Smilgevičiūtė and Rokas Radzevičius, for whom singing in Samogitian language was a new experience. The couple has been
interested in the Lithuanian cultural heritage for a very long time. They gathered stories, memories and tales of Lake Plateliai in Samogitia, combining them into a story about beggars, coming back from the Great Samogitian Calvary Festival, the noble lady Zifrina, and Gervazas – a drowned man of Lake Plateliai, who had his reasons for taking this company to the bottom of the lake and into an apocalyptic party.
'Although our festival has enjoyed SKYLĖ band and Aistė Smilgevičiūtė on stage quite a few times, this is the first time in our event's history, when the audience will be captured not only by music, but also a story. We believe that our audience will rediscover the well-known performers anew and they will become a highlight of our event' - says Daividas Kurlis, organiser of KILKIM ŽAIBU.
On stage, Zifrina and Gervazas are impersonated by the authors Aistė Smilgevičiūtė and Rokas Radzevičius. The role of the beggar Rimkūnas is played by the actor Irmantas Jankaitis. All members of Skylė band become actors as well: Enrikas Slavinskis (electric, solo guitar), Salvijus Žeimys (percussion), Gediminas Žilys (bass), Mantvydas Kodis (keyboard), Kęstutis Drazdauskas (flute), Eglė Jačauskienė (back vocal). The show also features a brass band.