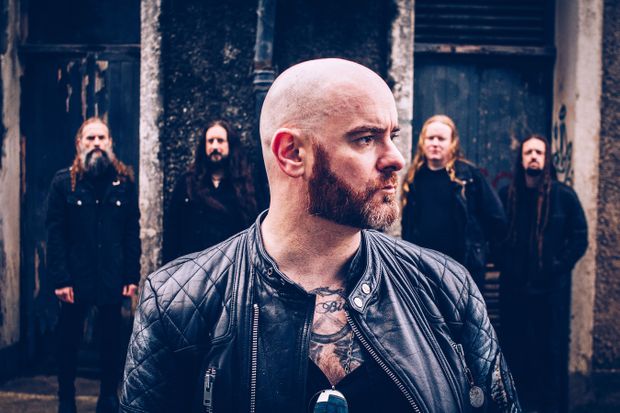 This is not one of those bands that make hundreds of gigs every year. Yet, tens of thousands of fans raise their hands in the air, when PRIMORDIAL is on stage. Inspired by the old legends and glory of the mystical nature, untouched by human hand, the five sons of the Irish lands have been paying the tribute to the old gods and national heroes for nearly three decades. And this summer the ritual of honouring the old gods and heroes will take place at Kilkim Žaibu festival.
Unlimited by boundaries of a certain genre, this team is known for its specific sound that is easy to recognize among thousands of other bands, which is quite rare on the modern stage. Instead of following in the footsteps of some 'authority', using clichés and the same topics or getting astray from their roots, Primordial has created their own sound and genre. 'We never wanted to create a band with a sound similar to previous music or simply mimic our musical heroes. All that we want to do is take something from our dark history, our Irish culture, which is bloody and cruel, and turn that into music.' said Alan Averill, leader of PRIMORDIAL.
The Irish managed to develop folk metal without using any folk instruments or traditional melodies. When it comes to Primordial music, everything that involves the term 'folk' is born in their hearts. The combination of captivating epic lyricism and tragedy with heavily melancholic melodies builds each of their songs into what all dedicated fans of the genre eagerly await every time. Their painful realism hits you right in the face with energetic guitar riffs and lyrical passages that send shivers down your spine.
The band has been improving their sound with no regard to changing styles, fashions or demanding agents of the music business, which allowed them to stay recognisable and unique. Music professionals trust Primordial so much that even one of the largest heavy metal labels – Metal Blade Records – doesn't tell them what they should do and how. Even two decades since the beginning of their journey, the giants of Celtic black metal are still as epic, poignant and aggressive as before. So there's no wonder that the crowds of their fans keep growing.
9 years after their first visit to Lithuania during Kilkim Žaibu festival,
PRIMORDIAL
is ready to impress the listeners not only with their musical talent, but also original visual performance. The works and design of the band's ideological leader A. Averill, also known as Nemtheanga, mesmerises many visual art lovers. This once again reaffirms' the bands attitude to what they do, as well as the versatility and consistency of their general knowledge.