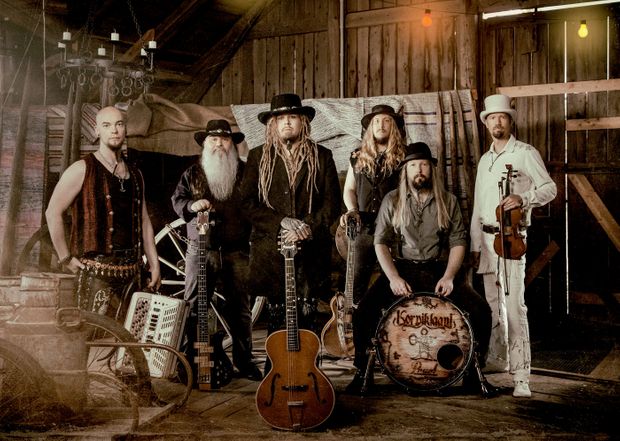 A true sensation of folk-metal scene – and, without a doubt, superstars that are a welcome guest in biggest venues and festivals all across the world – have earned their standing: ten albums in past fifteen years and dozens of live performances every year is the workaholic way of attracting a huge fanbase. And along the way
KORPIKLAANI
managed to revive the folk scene of Finland.
Distinctive sound of
KORPIKLAANI
is created by accordion and fiddle, which are accompanied by drums and guitar, more traditional tools in metal music. And explosive energy of live performances by this Finnish band will undoubtedly encourage listeners to raise a pint or two. Even a major part of Korpiklaani songs is exactly about that: "Beer, Beer", "Vodka", "Happy Little Boozer", "Wooden Pints", "Let's Drink" will never let you forget that you have to stay hydrated. With beer, of course. Even though music of Korpiklaani is, undoubtedly, made to be consumed with alcohol, this Finnish band is no stranger to their own history and culture. Big part of their repertoire is based on Sami folklore, and all album "Manala" is based on Finnish national epic "Kalevala".
And next summer visitors of Kilkim Žaibu XX festival's anniversary edition on a beautiful shores on Lūkstas lake will have a chance to hear exactly that: collection of merriest and tipsiest songs of
KORPIKLAANI
. Also, expect to hear a few songs from the newest album "Kulkija". The latest work unveils unexpectedly melodic and gentle side of Korpiklaani. But, even though "Kulkija" is not nearly as merry, as some of their most popular drinking songs, it is by far brighter than anything you could find in an otherwise traditional playlist of a self-respecting metalhead.
So, get ready for the merriest metal party – legs and kegs will not stop moving, and bright smiles will shine even in gloomiest faces!