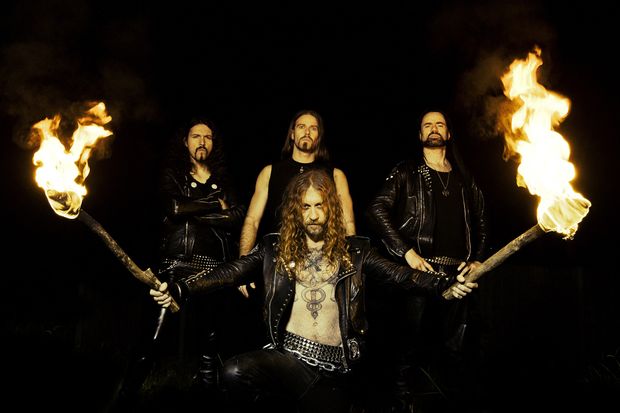 DESTRÖYER 666
is a non-profit organisation dedicated to the dispersal of ideas of lycanthropy, nihilism and minimalism. Formed in May 1994 and still swinging. After dismissal of Bestial Warlust, frontman's K.K. Warslut primary idea was to create a solo project, but that quickly escalated into a full band, which released a mini album next year already. This had opened a door into a foreign music industry, and the band did not last long to march through it. The debut album "Unchain the Wolves" (1997) earned them international attention and recognition of critics. Their brutal anthems and epic thrash black connecting wild war aggression and bombastic greatness of BATHORY had become one of the worldwide underground sensations of those years.
Nevertheless, of being well known, formerly
DESTRÖYER 666
were not very frequent guests in other continents because of a huge distance. However, sensing their own potential and ability to unrestrictedly realize their musical ideas, Destroyers decided to make a drastic move - relocate to Europe! Being well known and having an infinite load of explosive Black Thrash metal, musicians travelled across the continent. With a time, the members of the band scattered in a radius of 800 km, but K.K. Warslut managed to maintain the band together and lately they have released two successful albums "Defiance" (2009) and "Wildfire" (2016). Also, he has preserved their distinctive sound, the mightiness of the music and war metal soul.
These Australians have already roared in KILKIM ŽAIBU years ago, but it is extremely hard not to be tempted by them once more. Join the irresistible attack or be swept away to the abyss!