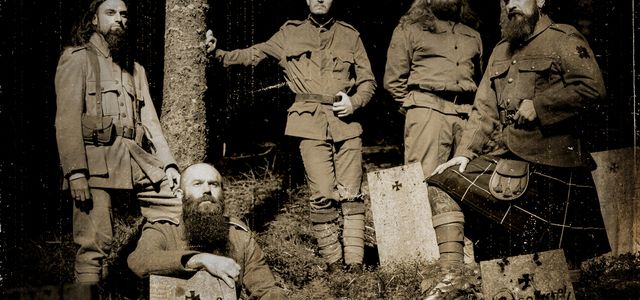 This band will never lay down their weapons. In 2021 they have released a brand new powerful album and we will never get enough of them! You might already be guessing which band we are talking about here...
1914, as the band's name suggests, they recite the poetry of War, their stories are about the times when death becomes absurd and life even absurder. It vividly captures the devastation and heartache of a
conflict that destroyed a generation, while delivering some of the most pulverizing and dynamic metal you're likely to hear.
Unlike their previous works, their newest "Where Fear and Weapons Meet" (released by Napalm Records) is not about death, but about life. Most of the protagonists in the songs survived war, became heroes and finally returned home. Even the album cover emphasizes this: Injured, shell-shocked and bleeding, the only survivor of a shield attack is holding his hand out to death, praying in agony, but death does not take him away. Like World War I, the album begins in Serbia from Gavrilo Princip perspective, and continues through various real war stories ending in 1918, using an original letter as lyrics, telling about the death of a son to his mother.