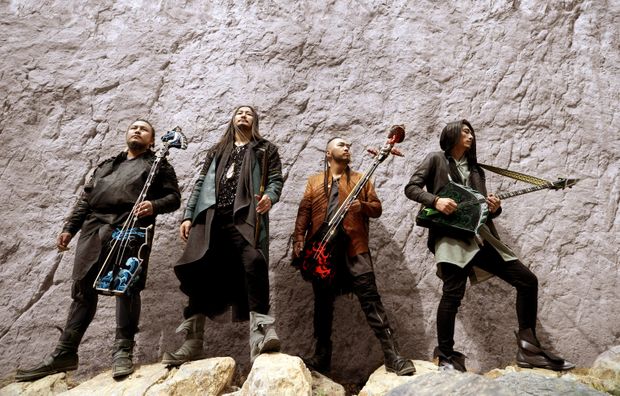 Heavy music fans that have been longing for new sound can rejoice: this year at Kilkim Žaibu music connoisseurs will be able to have a taste of a completely new genre – Hunnu Rock – brought by its pioneers THE HU from Mongolia!
Traditional Mongolian instruments – a two-stringed 'horsehead fiddle' morin khuur, a Mongolian three-stringed lute, called tovshur – and the traditional Mongolian throat singing haven't really gone much elsewhere than the Mongolian steppes. However, paired with rock and metal, the tradition of Mongolian music gave birth to the unique THE HU band, mesmerizing with its sound that is both authentic and modern at the same time. That was all what it took for the Mongolian music to spread all over the world.
The concept of Hunnu Rock is related to the Huns – a nomadic people, which caused much trouble to the Roman Empire and is believed to be related to the tribes that have settled in the territory of the modern-day Mongolia. 'Mongolians are not just taking elements from Western music and just copying and pasting. They use certain elements and turn them into their own authentic sound. So it's not rock music performed by Mongolians. It's Mongolian rock music.' says Thalea Stokes, Ethnomusicologist from Chicago University.
The band's first two singles – 'Wolf Totem' and 'Yuve Yuve Yu' – were released only last year – in 2018, but both of them already have millions of views and were very positively received by listeners all around the world. These two songs were enough for the exotic rockers from Mongolia to be noticed by a huge US talent agency – WME.
'When we do this, we try to spiritually express this beautiful thing about Mongolian music. We think we will talk to everyone's soul through our music. But we didn't expect this fast, people just popping up everywhere.' said guitarist Temka.
At
Kilkim Žaibu
festival
THE HU
is planning to not only present two of their most famous pieces, but also an hour-long gig, featuring songs from the yet unreleased Mongolian album, which has been perfected for the last seven years!