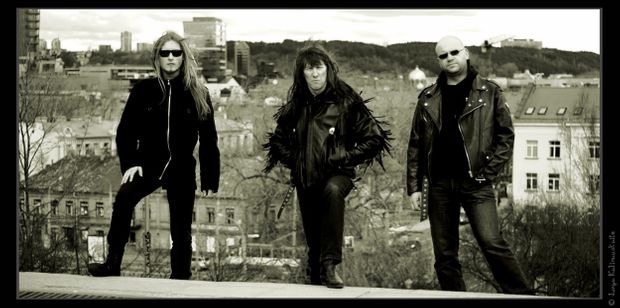 KATEDRA, one of the founders of Lithuanian hard rock and metal, which became the flagship of heavy music in our country, is planning to finish their career with a blast, inviting to the last of their gigs at the anniversary edition of KILKIM ŽAIBU festival.
The band was founded more than three decades ago in the Soviet environment that was hostile to any 'non-standard' music and released their début album Mors Ultima Ratio in 1990. This was probably the most influential Lithuanian metal album, featuring the vocals of then-unknown Povilas Meškėla. Following this release, the music critics of Metal Hammer magazine defined the band as a 'pure thrash metal act, strong both musically and technically. In fact, the formation is superior in comparison with 90 percent of similar Western acts'. Such recognition opened doors to foreign festivals, but soon – in 1991 – Katedra and Meškėla parted ways.
Although slowed down after their first release, the band occasionally used to revive with changing members, releasing two more albums: Natus in Articulo Mortis and III. Eleven years ago, the band's fourth album, Ugnikalnis, saw the light of day and RičardasLaginauskas, one of the founders and the only original member of the initial crew, says that this is one of Katedra's best works. In 2012, Ričardas Laginauskas and Povilas Meškėla performed on KilkimŽaibu stage under the project Katedra Lead Duet and this year Katedra, carrying the band's original name, although without Meškėla, returns to Samogitia to say farewell to their fans at the anniversary KilkimŽaibu XX festival, which will take place on 21-23 June by Lake Lūkstas in Varniai.