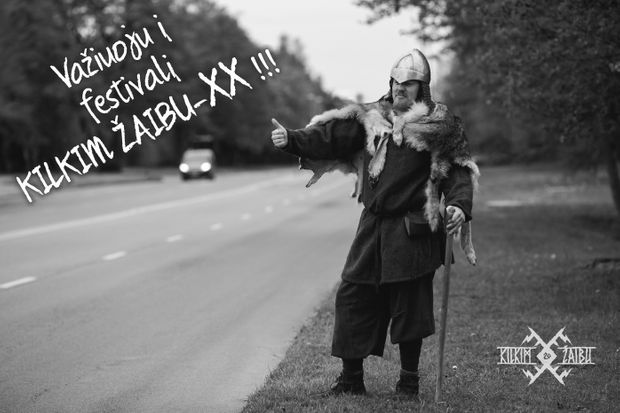 Feeling artsy and have fun ideas? Take part at our photo competition!
Take a picture of the way that YOU are planning to come to KILKIM ŽAIBU XX and win a special festival prize!
Competition topic: People of all ages, professions, hobbies, worldviews and countries, coming to Kilkim Žaibu using all means possible!
Metalheads, witches, aunts and uncles, hippies, vikings and all beasts! See you at Kilkim Žaibu!
Competition rules:
1. Take a photo of your best idea and think of a slogan (you don't need to put it in the photo – it may be added as a comment. No strong language though!).
2. Send your photo to info@kilkimzaibu.com until 12 June. The festival team will publish it on KŽ Facebook page on the same day.
4. The winner will be determined by the joint effort of the most 'likes' of the photo and the festival's jury (that is, each photo will get points both from the online community and the festival team).
5. You do have a chance of collecting more 'likes' if you send in your photo earlier, but if it's super amazing, although submitted on the last minute, you still have a chance to leave your competitors in the dust!
6. In case of strong disagreement between the online votes and the commission's opinion, we may have even 2 winners!
7. The author of the most original photo will get our festival's special prize, consisting of: a set of festival merchandise, various VIP privileges at the event, as well as an opportunity to take pictures with your favourite artists and get their autographs!
What are you waiting for? We're looking forward to your photos!