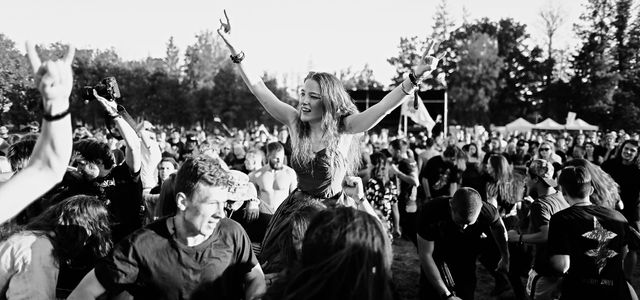 I sat down to evaluate the last – 22nd – edition of the festival only three weeks after it was over. Not a bit earlier. Perhaps even too early. But, it seems that the time has come, as people keep asking 'Well? Still alive? How was it?...' So, here's my attempt to give an answer to you all: yes, we're alive, still recovering and significantly uplifted. Despite various ailments and even traumas, we all got through.
THE MANOR OF ANTANAS SMETONA, UKMERGĖ
We spent 9 months trying to get used to the new location. Although interesting, it wasn't easy. The location was untested, the region was unknown and we had not met the representatives of Ukmergė District Municipality before, but they were warm and welcoming. We were open to an opportunity to host the event in a new place and they offered us a friendly invitation. I believe the expectations were satisfied on both sides.
FESTIVAL PLANNING
The quarantine period made us more than ready to jump right on the spree of organising the event. And it was a blast. We had so many plans and ideas that making it all happen demanded lots of effort.
CONCERTS
We are completely satisfied with it all. I won't be naming any bands in particular, but, the way we see it, all of their shows combined created a beautiful picture. The stage service bar raised by our headliners was useful to other bands as well. The stages, the stage workers and, of course, the shows, were VERY impressive! I can say we made yet another step forward in this perspective. A big thanks to our stage teams – everything was perfect.
THE LOCATION
The manor buildings created a cosy space, as if the festival was hosted at somebody's home. Hosted at the home of the President? Smetona's park and garden have probably not seen so many people before. The location was as if brought back to a new life. What we underestimated, though, was the low ground and watery soil. The record-breaking rain made us truly worried. We lost 10 ha of the location that was supposed to host the quiet camping. The meadows were soaking wet, there were lots of tractor towing, temporary road building, crushed stone laying, pit levelling, etc. The big stage ended up in a different place than planned. We had a choice of either putting it there or nowhere. Decisions contemplated for half a year had to be changed in nearly one night. We didn't give up, but the new location really made us sweat.
EVENT SERVICE
Here's my answer to probably the most popular topic – what the hell happened on the first day of the festival? Well, nothing extraordinary. Our organisation efforts received a knockdown. Right there on
the first round. We were preparing for a pompous and well-mannered fight, but then got hit by a train. Parking jams, endless queues, the gate under siege, overwhelmed security and a police car, pushed to the side of the road. Do we have any reasonable excuses? There are a few.
More than one thousand cars in two hours is an impressive number to any team. There is only one road to the festival grounds and it is narrow. You don't need much effort to build a substantial traffic jam there. Put in a couple of buses, a few cars attempting to leave and there you have it – the outcome wasn't funny at all. To sum up, even additional team efforts couldn't do much there. We simply had to endure. The location is new both to the organisers and the audience, so all of us were a little lost.
Of course, we do know that we have to work on this. Our sincerest apologies to all for the unpleasant delay upon arrival at the event. There was no way to forecast the flows of people coming already
on the first day. We will focus on this aspect of the festival as demanding at least twice as many forces and additional parking solutions.
THE FESTIVAL IDENTITY
The expanding contribution of the Baltic culture, the growing understanding of the meaning of the Summer Solstice, also new patriotic topics on Interwar and post-war freedom fights, partisans, and
many other aspects that make us proud of being Lithuanians and Balts, and purposefully-selected musicians build the unique identity of our festival. We're glad to be able to work on what we love, creating an event that stands out in the abundance of musical events all over Europe. And we are super proud
of our extraordinary audience – each and one of your unique personalities creates a fantastic vibe. No joking! You're simply wow! This is an event of friendship and zero mess. Representatives of Ukmergė authorities, like Samogitians before, are amazed of the cleanliness of the event. And we say that
we don't really need to put much effort there, because our audience is respectful both to the environment around them and themselves. There was nearly no trash we had to pick. And this makes us really proud of you. Thank you!
THE VERDICT
This was one of the most complicated and most difficult events in our history. We had a unique programme and very strong bands. Also, a nearly record-breaking audience. However, the situation of the
event is not very good. All of our obligations were fulfilled, but there were difficulties too. Considering the quality of the event, the ticket price was a bit too cheap. We also see this by looking at other similar events in Lithuania that were better at weighing the outcome of inflation than we were. But the
festival survived, we don't give up and we' ready to roll on.
THE TEAM
Perhaps I shouldn't be offering too much praise, especially as there's still much room for improvement. But not sharing the lasting impression I got is not an option either. The small, but well-tuned team readily withstood the storm of Kilkim Žaibu and all of you. Meeting one week before the event and sleeping in wet tents, both organisers and volunteers held their positions despite the record-breaking heat throughout the event. They ran, fell, got up and solved all kinds of situations to keep the machine of Kilkim Žaibu running smoothly, all performances and logistics – on schedule, etc. The team effort was enormous and we withstood the storm. Any repayment for their dedication seems too little. And we're all 'Kilkim Žaibu to the core'! Friends, I am so proud of you all and more than happy to enjoy the opportunity of being among you. Thank you for being here!
GROWING TEAM
The event is open, it has tickets, but it's not commercial and we can build it together. We welcome everyone that can and wants to join every year. Experience is useful, but not necessary. If you want it, come join us and make Kilkim Žaibu family stronger. We're all like one, so the desire to do something
creative keeps us going all year round. And anyone that has already joined us can confirm that if you get through Kilkim Žaibu, you can get through anything. Come join us and see for yourselves.
WILL THE FESTIVAL TAKE PLACE IN THE FUTURE?
We have no doubts so far. Of course it will.
LOCATION: NEW OR OLD?
Although this edition was the 22nd, the festival is already 24 years old, but there's this feeling that, perhaps, we haven't found our home yet. It is very likely that our home is simply under the Lithuanian sky.
Currently our desire for something new has already been satisfied. We liked the new location and all further results should only be better. And we really loved the locals. Trying to settle down with the new
location is quite an option. But we also feel attached to the lands of our stark Samogitians.
So, this is the perfect time for a discussion, which place is better? The new one or the old one? What do you think? Or, perhaps, you have some yet undiscovered place in mind, which could host KILKIM ŽAIBU festival? We're ready to listen and open to suggestions. We invite you to express your opinion in the poll.
On behalf of the team
Daividas