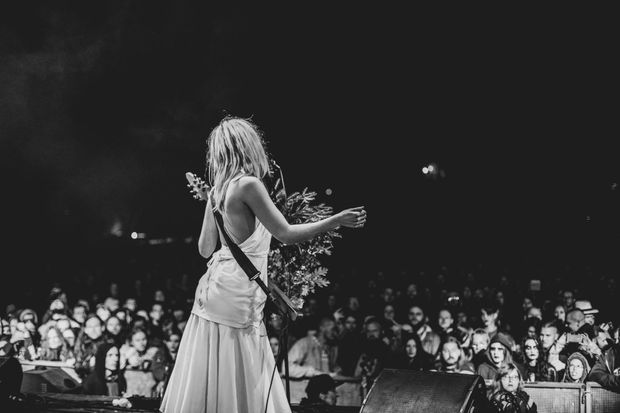 Festival KILKIM ŽAIBU XIX is over...
Is it for real? The live coals of the lightning still burn the body. While the waves of the storm haven't still calmed down, I have an urge to share my feelings, thoughts and insights.
FESTIVAL ORGANIZATION
. It is not a secret that organization of KILKIM ŽAIBU has not had any breaks for many years already. Every year we remember last year and plan the next one. The word "organizing" is not even suitable anymore. We live in the creation of lightning and only sometimes come back from that parallel world to the reality. Yes, it is a hard, exhausting work, but the audience's and performers' feedback motivates us and provides energy for new creative processes. Our small org-team had been working devotedly. Though it sometimes seemed that we simply physically would not cover everything, we accomplished everything as planned. Even the force majeure was resolved, organizers reacted to everything on time. I officially promote my comrades from "Kilkim Žaibu team" to "Kilkim Žaibu family". Thank you for being together which is many more than I can express in words…
PERFORMERS
. We had almost 200 musicians and 100 history reconstructors, craftsmen. I even won't bother telling you how much attention was needed to find the solutions for logistics, technical fullfilments. I can only emphasize that this year was extraordinary talking about the number of wonderful, sincere and extremely creative people in one place. WOW... I want to meet them all again.
STAGES
. Two professional stages in festival KILKIM ŽAIBU are becoming a tradition and a necessity. Do not make a mistake by calling them the big and the small. They are almost even by every parameter. Their size wouldn't be a shame to any biggest Lithuanian festival, and the staff was really professional.
Some negligible program delays happened not because of the stage crew but because of simple mundane circumstances, which, especially taking into account the amount of musicians, is unavoidable. The technical crew is impatient to make everything even better next year. And we sincerely thank them for this year. It was great.
AUDIENCE
. There are some rumors that KILKIM ŽAIBU becomes more important to metal fans than Christmas and New Year because many Lithuanians and Latvians measure years by KILKIM ŽAIBU. Thanks to this festival, many emigrants come back home once a year. There are all the friends and the like-minded. I am also happy that many new people discover the festival every year. I am amazed by the amount of foreigners, which is also getting bigger every year. This year there were especially many of them: English, Germans, Scandinavians… not in tens, but in hundreds… and all of them promise to come back in bigger companies because according to them, there are too few events like this. We sincerely thank to our audience for loyalty and for leaving the nature environment clean. Thank you!
WEATHER
. For the very beginning until the end I had a feeling that somebody is protecting us. It wasn't hot, wasn't cold, there was no rain. On Friday there were strong winds in whole Lithuania, however they did not drop by Varniai because festival's area was surrounded by forests. Finally we took a break from last year's damp.
VIDEO
. This year we have a lot of qualitative and interesting material. Last year we could not fly a drone because of the rain, the computers were wet and so on. This year we exploited the equipment successfully. Now we only have to wait for the results.
FESTIVAL AREA
really has its aura. Wonderful lake, coast, forest... We like it here, and it seems that allotment of festival activities has really answered its purpose: the lake's beauty opened itself, ancient program's surroundings exposed themselves, it was cosy. We will definitely celebrate the anniversary here!
ANCIENT PROGRAM
deserved exquisite attention this year. I am very happy for the increased number of participants. People from Ukraine, Poland and Czech Republic sincerely wondered about the matter of our event. Many of them hadn't expected such harmony between art and history. The Polish regretted that they do not have such event and are going to recommend it for all their friends and Ukrainians are already preparing busses of warriors for arriving here next year. Thanks to the organizators of the ancient program, you have moved forward once again!
ACTIVITIES
. I was tracing with amazement that all the activities were useful and necessary. The people were dancing, singing, playing and finding time for everything. It is obvious that this direction will also cherish.
BEER AND CATERING
. There were lots of food, it was qualitative and versatile. The beer is without comments, simply very good. The service is smooth, the queues are history. I mark a plus here.
WC.
It seems that everything was civilized here this year.
TRASH. Representatives of the local government had visited the festival and were amazed by our audience's tidiness. However, there is still a place for improvement. Though the majority of audience contributes to the uniqueness of KŽ tidiness, there still were fag-ends near the market places. We kindly ask you to be observing in the future and warn those bastards or simply inform the security about littering. We have to eliminate such behavior from the festival. But generally, we are already worth 9 out of 10 for the cleanness and this is good.

CONTRABAND. We announce every year what you can bring and what you cannot. If you do not hear us, then do not resent.

SECURITY."GRIFS" and "Samogitian MC", thank you. We felt safe, cozy, however we received some remarks. Hence, there still is where to improve and we will discuss it till next year.

VOLUNTEERS. Though there were not so many of them, they were very cool. Everybody was working as much as they could. Thank you, we will wait for you once again!

KŽ XIX IN GENERAL. This year we had record high number of artists and audience. We had avoided serious incidents. Technically everything was implemented almost perfectly. We are happy with the event, however we see our disadvantages as well.

KILKIM ŽAIBU XX anniversary will take place on June 21-23, 2019 in Varniai on the lake Lūkstas coast. We will come back to our summer solstice celebration topic. We have the first performers: DESTRÖYER 666. Like you can expect, in the anniversary we will see beloved and new artists. We still have a year and we believe that we can do everything even better than before!

Join the KŽ-XX FB event page for all news: https://www.facebook.com/events/397792920724789/
KILKIM ŽAIBU – rock'n'roll till Valhalla!
Organizer
Daividas