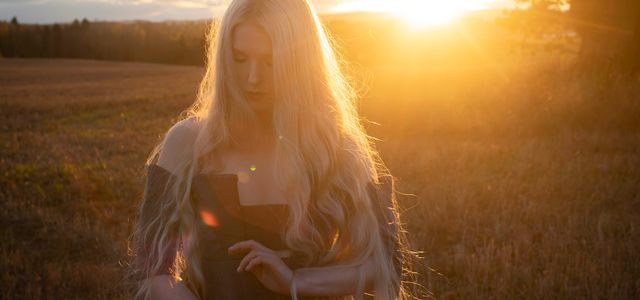 SYLVAINE is a creative outlet of Norwegian multi-instrumentalist Kathrine Shepard and her music is all about the duality between opposing forces, reflecting all sorts of emotions the human mind has to offer. Serving as a catharsis for the artist, SYLVAINE's performances, be it with a full band or solo, are aimed solely at reaching the soul, offering an escape away from our planet, for just an instance.

Serving as the sole composer of both its music and lyrics, Shepard -- who holds a bachelor's degree in Musicology from the University of Oslo and has done session work with Alcest, Autumn's Dawn, and Clouds -- manifests a seamless balance between serenity and chaos; between an outside and an inner world; between the life and the spiritual origins.
SYLVAINE's debut album was self-released in 2014, and soon talented performer got signed by famous metal label Seasons of Mist. Sylvaine released her third full-length, "Atoms Aligned, Coming Undone", in November of 2018 and next year she became a first ever female artist to be nominated for the Norwegian Grammy awards in the Metal category, since they added the category to Spellemannprisen in 2001.
Currently, SYLVAINE is putting final touches on a brand new fourth album "Nova" with a release date on March 4, 2022, which has already landed an few excellent reviews and a support slot for upcoming AMORPHIS tour.
Katrine's new offering again will be a deeply emotional journey, swinging like a pendulum between meditative spirituality and raw vulnerability, and surely you will have opportunity to experience these feelings during her show in KILKIM ŽAIBU XXII. We see that this musician has definitely a very bright future.