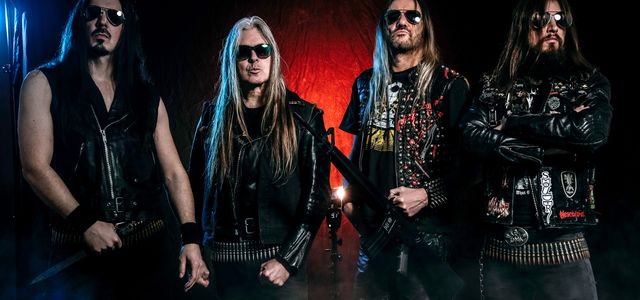 Legendary German thrash band SODOM is still going strong after over 40 years as a band and clearly does not intend to slow down any time soon. Along with the bands KREATOR and DESTRUCTION, SODOM is considered one of the "Big Three" of Teutonic thrash metal. While the band created a sound that influences mostly thrash and death metal, SODOM's music style has greatly influenced many different metal bands as well.
SODOM were founded by TOM ANGELRIPPER (bass/vocals), WITCHHUNTER (drums) and AGGRESSOR (guitar) in early 1980's. From the very start, the trio heavily influenced by bands like Motörhead and Venom, dedicated themselves to the toughest variety of heavy metal. SODOM's first two demos "Witching Metal" (1983) and "Victims of Death" (1984) caused a sensation in the scene, and after successful gigs in Germany with Venom, Destruction and Iron Angel, they signed their first recording contract with Steamhammer. Actually, after one of those gigs in Frankfurt, Manfred Schütz of SPV GmbH record label approached the band and spoke now the legendary sentence: "You guys are so bad, you will sell a lot of records!"
After "Obsessed by Cruelty" (1986) was released, the band abolished their Satanic image and replaced it with the (pacifistic-motivated) war theme that can be found on most of SODOM's records. In the 1987, EP "Expurse Of Sodomy" was released, which also contained the classic "Sodomy And Lust", earning SODOM positive reactions even from formerly critical voices and after a while they got a worldwide recognition. Their masterpiece "Agent Orange" came on the market in June 1989 and achieved what no other thrash album worldwide had accomplished: it entered the German Media Control album charts!
In 2001, TOM ANGELRIPPER got awarded double platinum for more than 1 million SODOM albums sold. However, he does not stop there. Quite recently, in 2018, the band by re-adding the legendary axeman Frank Blackfire from trio became a four piece, and stays one of the most well-known metal bands on the planet.
Having just released a greatest hits compilation "40 Years at War - The Greatest Hell of Sodom" in an honour of their 40 years on stage, currently SODOM is working on a new material, which will be released in 2023. That means KILKIM ŽAIBU audience will have a privilege to be one of the first people to hear the new tracks and of course, a pleasure to headbang to the all legendary old school songs live!