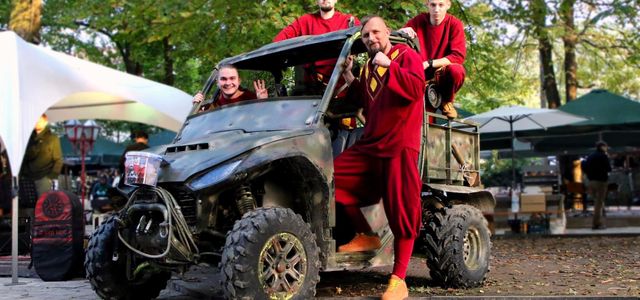 JORYJ KŁOC is a quartet from Lviv, creating its energetic performances with traditional Ukrainian, Polish, Lithuanian instruments and motifs, long-live rock'n'roll and even drum'n'bass stylistics. The guys assert that the lyrics for their songs were written by ancient troubadours and wanderers which were the first Ukrainian rockers and they only follow their tradition.

Band's name originates from closed hurdy-gurdy bands: "Joryj" means honor and rebellion, and "Kłoc" means piece or man. And the lads aren't too modest – band's name could be interpreted as "honored man".

It is not the Ukrainian band's JORYJ KŁOC first time performing at the KILKIM ŽAIBU festival, but this
time is special. The Ukrainians are coming to Lithuania while war is ravaging their homes. Band's vocalist Anton had volunteered into the Ukrainian forces and is protecting his homeland in the literal sense. It's only natural that their performance won't be only jolly. However, the band won't lack passion for
music the slightest bit.
JORYJ KŁOC informs – prepare for an unforgettable, free and wild party!