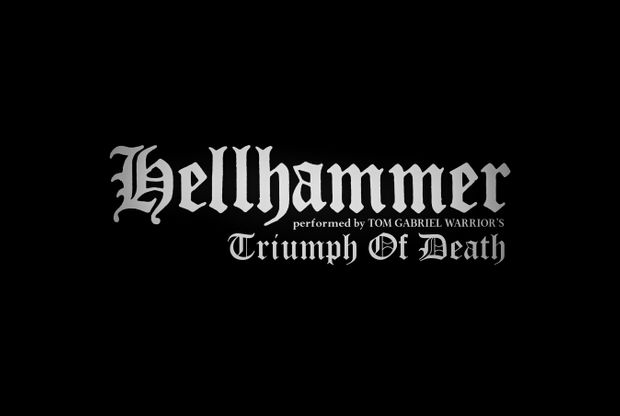 The pioneers of their genre, gathered by the living metal legend Tom Gabriel Warrior, existed only for a very short time – from 1982 to 1984 – yet the time was spent productively, resulting in three demo records, the Apocalyptic Raids LP and a number of songs that have been never recorded or even performed live. The band's most important work was the Death Metal split, which could be regarded as one of the turning points in the history of metal music.

After HELLHAMMER disbanded, T. G. Warrior continued the same musical theme in Celtic Frost, achieving even greater fame and influence in the metal world. After the latter, he completed his musical triptych with the band Triptykon (highly appreciated by Kilkim Žaibu visitors in 2015).

The Swiss metal legend, together with another founder of Hellhammer – Martin Eric Ain – have been thinking of getting back on stage under Hellhammer flag for a while, their determination reinforced by re-formed Celtic Frost in 2000 and the book Only Death Is Real, released in 2009, featuring the early history of Hellhammer and Celtic Frost. Unfortunately, M. E. Ain didn't live to see this revival – he died a couple of years ago.

Of course, playing HELLHAMMER songs doesn't mean that the band is revived for a long time or that it's revived at all.

"Hellhammer will never come back and cannot be revived. It's completely impossible to re-form a band that is so closely tied with a special and unique period of time. No matter how strong were the offers given to me for years, I've never even thought about it. Yet Hellhammer music lives and is a very important part of my path of life. I'd love to play these songs on stage before I die." says T. G. Warrior.

That is why this project is titled after probably the most well-known HELLHAMMER song – 'Triumph of Death'. In order to make it come alive the founder of Hellhammer has gathered his close friends and colleagues – Mia Wallace (Niryth, The True Endless, Kirlian Camera) - bass, Michael Zech (Secrets Of The Moon, Odem Arcarum) - guitar/vocals, and Alessandro Cornerio (Forgotten Tomb, The True Endless, Hiems) – drums.

This summer TRIUMPH OF DEATH will play both the most famous HELLHAMMER songs only at five carefully selected festivals – Hellfest in France, Party San in Germany, Brutal Assault in Czech Republic and the largest metal festival in the world – Wacken Open Air in Germany.

The fifth and last event, chosen by the TRIUMPH OF DEATH is Kilkim Žaibu XX!