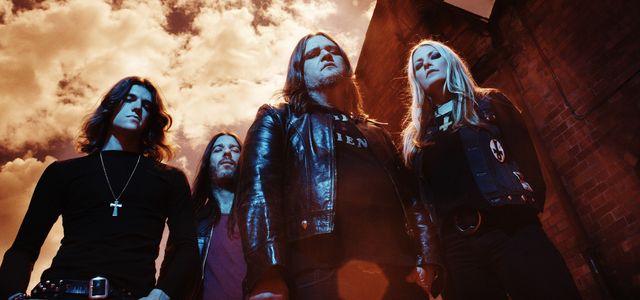 ELECTRIC WIZARD. The myth, the legend. Formed in Wimborne, Dorset, UK in 1993 by three archetypal potheads with a shared appreciation of vintage amplification and instruments, marijuana and Black Sabbath. Initially conceived as 1970s styled doom metal their sound quickly developed a more aggressive and heavier style drawing influences from early black metal, detroit garage, acid rock, hardcore punk and even electronic music.
It was due to their rural isolation, drug abuse, police harassment and a general escalation in violent lifestyle and environment that this style developed and spilled over into their live performances and personalities. Yet despite these self-destructive tendencies (including poorly explained injuries, arrests, court appearances, the infamous debauched and demented US tours, alcoholism and the inevitable acrimonious and public line-up shuffles) and a perceived paranoiac media/industry unfriendly attitude, the band and their sound has risen to dominate and define the doom metal, stoner and sludge metal music scenes.
They are now commonly referred to as "the heaviest band in the world" with at least, three of their nine LPs widely recognised as genre benchmarks and heavy metal classics (1996's "Come My Fanatics…", 2000's "Dopethrone" and 2007's "Witchcult Today"). Also their lyrical and stylistic obsessions (the 70's, weed, horror films, the occult, HP Lovecraft, witchfinding, 70's porn, psychedelic art etc.) have had an undeniable influence over modern doom metal and how it is perceived today.
ELECTRIC WIZARD are a modern day cult and phenomenon with an aggressive, fanatical and ever-growing fanbase. Their uncompromising style continues to inspire every new generation of disenfranchised long-haired dropout/stoner metalheads and seekers of extremity in music sick of genre raping 'product' spewed out for weak minds and feeble ears.
In 2023 the band will perform only handful of carefully selected shows and we are very happy that KILKIM ŽAIBU festival is one of them!
It will be the first time ELECTRIC WIZARD visiting Lithuania, don't miss it!