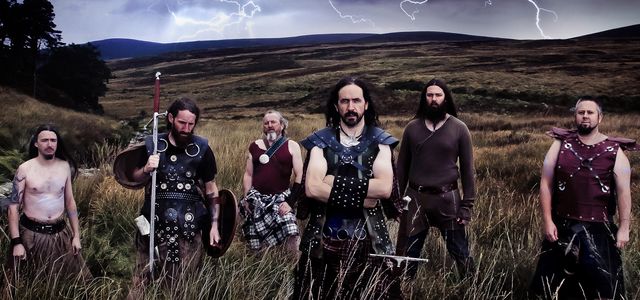 Since forming CRUACHAN in 1992, it has been singer Keith Fay's singular vision that has steered the band across stages of the world for nearly thirty years. Appearing originally under the moniker Minas Tirith the band's focus on Irish history and mythology prompted a change to the more suitable
CRUACHAN. The band's blend of Irish folk music and metal was unique and in late '93, their demo 'Celtica' soon landed the band their first record deal with Nazguls Eyrie Productions.
The first fruits of this endeavour was the band's cult classic debut album, 'Tuatha Na Gael', which hit the shelves in 1995 to critical acclaim. The band began to draw admiring glances from a number of bigger labels. They eventually signed with Hammerheart Records and released 'The Middle Kingdom' in 1999 which saw the band make their first international live appearances. Their third album 'Folk-lore' was
produced by and featured the unmistakable vocals of The Pogues legend Shane MacGowan on 'Ride On', which was a hit single in Ireland.
Subsequent releases saw the band join up with AFM, Candlelight records andTrollzorn which led to CRUACHAN hitting some of the biggest festival stages, including; Hellfest, Brutal Assault, 70000 Tons of Metal (where they became one of the few bands to ever perform three sets), as well as their own '25th Anniversary' show in Ireland. In 2020, CRUACHAN signed with Sweden's Despotz Records, the first release with them being the single 'The Hawthorn', and a new album is due later this year.
We warmly welcome Ireland's prime folk metal export in KILKIM ŽAIBU 21 for very first time!